Samsung to Double LCD Sales by 2010
10/19/05- Korea Times: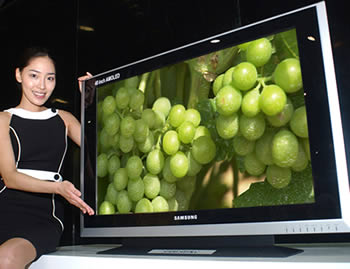 Samsung Electronics aims to double its annual sales of liquid-crystal display (LCD) panels to $20 billion and to introduce 100-inch models by 2010, Lee Sang-wan, CEO of the LCD division, said on Wednesday.
The Korean electronics giant also expects the worldwide market for flat-panel displays to grow by 75 percent to $115 billion over next five years due to the growing demand for high-end television sets.
Lee said that this year's sales of Samsung Electronics is estimated to reach $10 billion and it will expand to $20 billion in 2010. Lee disclosed these figures during a keynote speech at FPD International 2005, a conference for flat-panel display businesses being held in Yokohama, Japan. He added that in order to accomplish the goal, Samsung will develop new markets for LCDs and will strengthen its leadership in related technologies.
Lee forecasted that the increasing demand for LCD television sets will lead the market growth over the period. Television's portion in total LCD panel sales will continually rise from 17 percent this year to 42 percent in 2010, he said.
Currently, PC monitors and mobile handsets account for around 40 percent and 27 percent of LCD demand, respectively.
He said that three years ago, Samsung expected the flat-panel display market to grow to $47 billion but the market has grown far faster than projected and reached $66 billion, adding that the market can grow to $115 billion by 2010.
Lee predicted that 100-inch LCD televisions will be available in the market by 2010. Currently, a 65-inch screen from Japan's Sharp is the largest of the kind in the market, while Samsung recently developed an 82-inch panel in March.
LCDs are more adequate for screens less than 50 inches due to the higher manufacturing costs of plasma-display panel (PDP) televisions. For PDPs, Samsung and LG Electronics both have presented 102-inch prototypes this year, and the former is selling 80-inch models at around 130 million won.
Samsung has been competing with LG.Philips LCD for dominance of the LCDs. Samsung's LCD department had recorded sales of 8.7 trillion won ($8.6 billion) in 2004 and 5.2 trillion won ($5.2 billion won) in 2003. The company expects it will reach the 10-trillion won mark this year, as accumulated sales until the third quarter recorded 8.3 trillion won.
An LCD is a thin, flat display device made up of hundreds of thousands of color pixels arrayed in front of a light source or reflector. It uses relatively small amounts of electric power compared to traditional displays using cathode ray tubes (CRT), and has been widely used for battery-powered electronic devices such as laptops and cell phones as well as televisions and monitors.
By: Korea Times