Samsung SPH-A940 Commercial
Update 2.1:
We now have the
COMPLETE
Samsung commercial spot featuring the MM-A940 to show.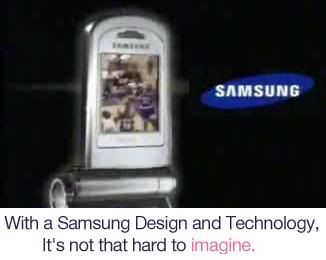 [Thanks
again
Clash]
Update:
SprintPCSinfo
Editor-In-Chief Chris Price
explains
the commercial:
"Samsung buys yearly ad spots and this time every year they promote their most powerful Sprint phone. Last year's ad spot was the A700. This year's is the A940.

Unfortunately, most people don't remember TV ads from only a year ago, where we went through the same process of the A700 being in TV ads and not in-stores.

These ads are made and targeted long before carrier and device approval is completed, and are always running before the launch of the device. Samsung does this to save money, not create confusion."
9/26/05:

Samsung is showcasing the SPH-A940 in television spots, pointing to an immediate release of the phone, and Sprint's 3G EV-DO network. It is important to note that this is not a Sprint commercial, but a Samsung one, which are rare.